What is K-Laser Therapy
---
Expertly treating pain in the Lexington, KY area
K-Laser is a therapeutic laser treatment that encourages accelerated healing of damaged tissues and promotes new cell formation.
With the use of a precise wavelength of light, the body's natural regenerative functions are being activated. Including endorphins and collagen release. Ultimately, it can repair injured tissues and restore it to its normal state.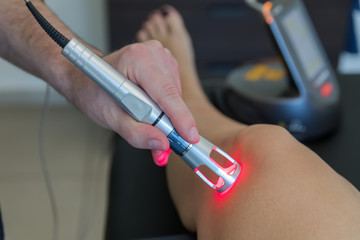 This laser treatment is recommended for inflammation management. As it can help reduce pain, swelling, stiffness and spasms. Patients who undergo K-Laser treatment can resume back to their daily activities quickly as it can help speed up the recovery.
Conditions Treated with K-Laser
K-Laser Therapy can reinvigorate damaged nerves, injured soft tissue, ligaments, and cartilage. High power laser treatment is recommended for the following conditions:
Back and Neck Pain
Peripheral Neuropathy
Fibromyalgia
Sciatic Pain Arthritis pain
Degenerative Discs/Joints
Carpal Tunnel Syndrome
Knee Problems Tendinitis
Trigger Fingers
Bunion Pains
Plantar Fasciitis
Sprains and/or Strains
Bruises / Contusions / Burns
Headaches
TMJ
Sinus Trouble
Athletic Injuries
Work-Related
Auto Injuries
What are the Expected Results?
The treatment is conducted by a technician with the use of a flashlight-like device that emits a safe level of laser. It is positioned directly over the injured area for about 30 seconds to 9 minutes, contingent on the size of the injured part and its therapeutic regimen. You will feel a warm, relaxing sensation during the treatment.
In many cases, patients respond well to the therapy that they experience relief from pain in as little as one treatment. Most patients were able to get back to their daily routines without discomforts and movement restrictions. So far, no side effects after the treatment were reported.
Findings:
Acute Pain - More than 70% pain reduction while chronic pain about 60% pain reduced
Chronic Back Pain - 71% cases shows efficacy of the the laser treatment; 45% reports complete pain relief
Wounds - 55% considerable recovery on day 8
Knee Injury - Improved knee range of motion and diminished pressure sensitivity
If you believe you could benefit from high-quality care, consider getting treatment from the staff at Stinson Chiropractic Center. Our dedicated staff will be pleased to answer your questions today. We can also help you schedule a time to visit our Lexington office.
Call or Text Us: (859) 908-1279
Email: stinsonchiropractic@gmail.com